Texas Propane Gas Delivery
Propane gas is an essential we can't live without—but we don't have to go on and on about that. You already know propane gas's versatility when it comes to powering your residential or commercial property: heating, water heating, stoves, dryers, fireplaces, generators, landscaping equipment, outdoor lighting, and more.
Whenever you need propane delivered to your home, you can rely on the Kelly Propane and Fuel team to be there for you. We've been serving families like yours for more than six decades, and our team of skilled propane professionals works hard to understand your energy needs and make sure you have the fuel you need to stay comfortable no matter what season it is. Keep reading to learn more about our customizable propane delivery options, or skip all that and order propane now.
ORDER PROPANE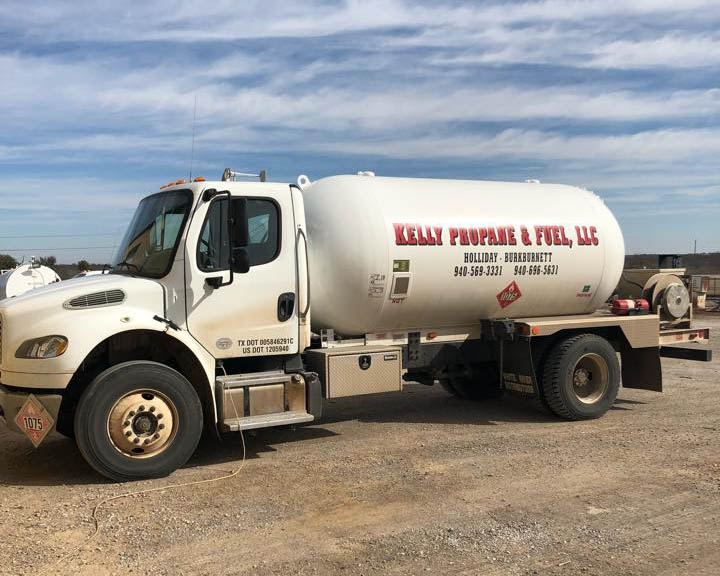 ---
Simplify Your Routine with Automatic Delivery
Our automatic propane gas delivery program takes care of your fuel ordering and scheduling. That's right—just sign up, and we'll take placing orders off your to-do list. Enrolling in our auto delivery program is the fastest and easiest way to help ensure that you'll always have the fuel you need, without having to trek outside and check your fuel levels so regularly.
How Automatic Propane Delivery Works
Our advanced computer system tracks how much fuel your home will use based on how cold it is outside and the propane appliances you use. We will deliver fuel automatically to you, usually when your tank gets to 30% full. It doesn't cost any extra, so sign up now to add convenience and stability to your routine.
SIGN UP FOR AUTO DELIVERY
LEARN MORE ABOUT AUTO DELIVERY